Onkel Robert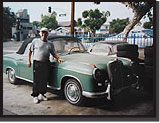 Robert Kiermeyer
1936 - 2003
Roberts Onkel Robert verunglückte tödlich mit seinem Auto in den USA. Hier können Sie eine Bericht über den Unfall von Kimberly Corbett lesen, der in der Desert Dispatch veröffentlicht wurde.
NEWBERRY SPRINGS -- A 21-year-old man led California Highway Patrol officers on a high-speed chase up Interstate 15 early Thursday morning that ended with two crashes -- the second involving a car that struck a patrol car after the chase had ended.
CHP officers attempted to make a traffic enforcement stop near Harvard Road at 12:37 a.m. on the northbound Interstate 15 after spotting a vehicle weaving in and out of its lane, but the driver bolted, CHP spokesman Todd Weichers said.
Reaching speeds of 110 mph in a blue 1991 Honda Accord, the driver evaded officers by using the right shoulder to pass other vehicles.
Just south of Field Road, he lost control as he tried to cross the 80-foot-wide center divider to reach the southbound lanes.
His car overturned and ended up on the right shoulder of the roadway facing the southbound lanes, Weichers said. The officers pulled across the center divider and parked on the right shoulder nose-to-nose with the Honda.
As the officers stepped out of their patrol car, a southbound yellow Volkswagen Beetle suddenly drifted onto the right shoulder, broadsiding the patrol car and pushing it about 75 to 100 feet further south.
Robert Kiermeyer, 66 of Laguna Beach, the Beetle's driver, missed both of the officers by a very small margin.
"He struck the patrol unit dead center between the front and rear door," Weichers said.
One of the officers had been walking by the right passenger-side tire when the Beetle hit and the other officer was just making his way around the front of the unit, Weichers said.
"Normally on a felony stop, you stay back and use the vehicle for protection," Weichers said. "They elected to move a bit and saved their lives."
The reason for Kiermeyer's car drifting onto the shoulder is still under investigation.
Both of the vehicles caught fire from the impact and completely burned, Weichers said. The officers removed Kiermeyer from his vehicle.
Kiermeyer and the driver of the Honda were airlifted to Arrowhead Regional Medical Center.
Traffic was not delayed, even though the roadway was closed briefly for the airlift.
The 21-year-old's name was not released, and Weichers said he stole the Honda from his mother.
"He wasn't supposed to have the car and took it anyway," Weichers said.
The Inland Division Multi-disciplinary Accident Investigation Team in San Bernardino will be investigating the collision to conclusion.