Sep. 14th, 2010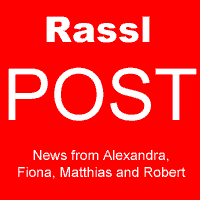 Italy:

Tired of cold and rainy summer in Germany the Rassls escaped to sunny Italy.
We visited ancient Rome, crowded Napoli, and picturesque Gargano. We went there with our old caravan and had a great time together. Fiona and Matthias were great and were eager to visit Vatican, the Colosseum, ancient Pompeii, and active Vesuv.
After three weeks of vacation we returned relaxed to Munich.
Fiona starts school!



Munich

Fiona no longer visits kindergarten. On September 14th, 2010 she started her new career at school. Very excited and with a huge "Schultüte" (school bag) she went to her new school.
She got a very nice female teacher and found new classmates. She sits next to her best friend Kathleen and can´t wait to learn how to read, write, and calculate.
We met her for a short exclusive interview.
Matthias was very relaxed. He has to go to kindergarten now by himself. However, it did not bother him. Of course, he is a "big boy".



Proud Fiona on her way to school.